If you have considered buying your own trade show exhibit that is custom-designed, you're not alone. Many businesses eventually make a decision between trade show exhibit rental and having a custom design done specifically for their company's needs. Here is some information on the pros and cons of buying a custom-designed trade show exhibit versus renting one.
Why Some Businesses Choose to Rent a Trade Show Exhibit
There are many reasons you may have considered renting a trade show exhibit for your business, but the largest reason renting makes sense for some businesses is expense.
First, renting an exhibit means there's nothing to buy, which means a smaller hit to your bottom line from rental all the way through tax time. There are no fees to ship the display, or store it when you aren't using it. You simply rent the display when you need to go to a trade show. If you only attend one or two trade shows a year, this may be a great option for you.
Also, if something is damaged or breaks on the exhibit, you don't have to pay to get it fixed. You don't have to worry about changing your design, because you can rent something different for each exhibition. If you are a small business and you're just starting out at trade shows, renting helps you get your feet wet, and allows you to choose which designs work for you and which designs just don't have what you need.
Downsides to Renting
While renting a trade show exhbit seems like a great idea at first, it isn't always a good option. First, because you are renting a trade show exhibit, you aren't getting a custom-designed product, but instead, you're getting something generic and well-used. You may not make the first impression you're hoping for.
Also, you may not be able to get the exhibit you want when you need it the most, because someone else is using it the week you really need to shine at a new trade show, for example. If you travel to trade shows all year long, the costs of rental begin to add up, and may not make as much sense as buying an exhibit.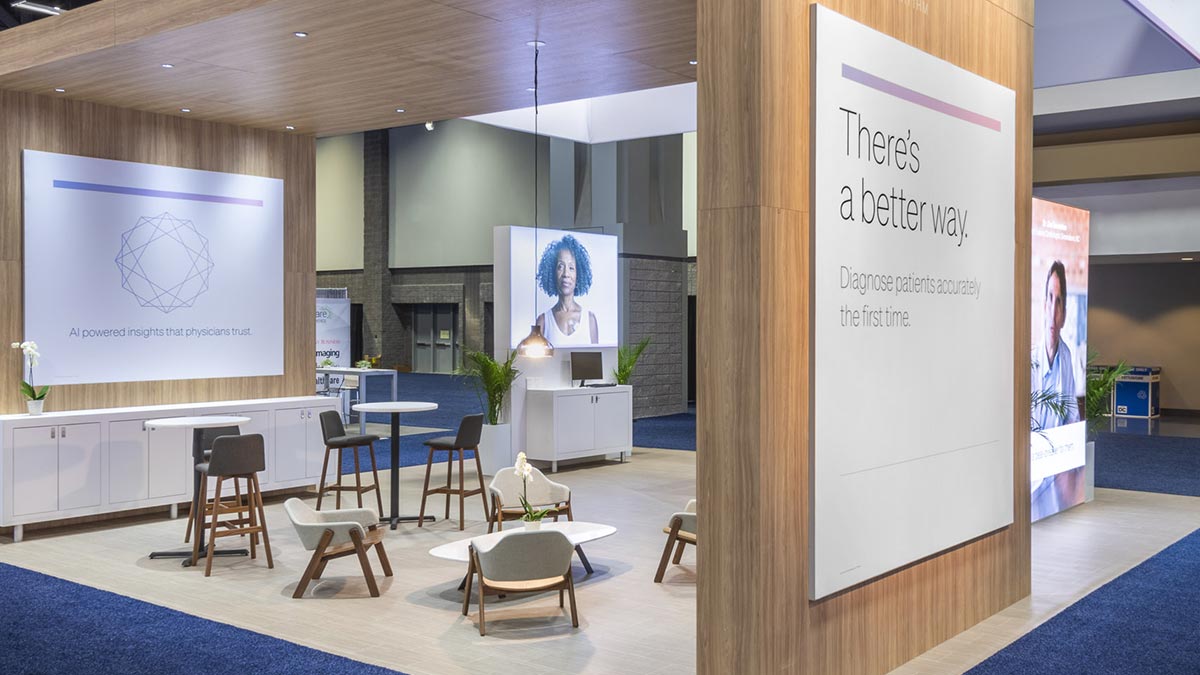 The Case for Buying a Custom Display
With any purchase, there are drawbacks. The initial expense of a custom design may be hard to swallow for some businesses. Also, if something breaks on the exhibit, you bear the cost of repairing it. You also may have to replace some elements of the exhibits as trends change. For example, there was a lot of movement a few years ago towards technology and 3D displays. Now however, businesses are trending more for sustainability and environmentally-friendly product displays.
However, when it comes to custom exhibits, there are an enormous amount of advantages to buying a custom display. First and most important, buying a custom display means working with a designer who really gets to know your company and your products. They can create a truly jaw-dropping exhibit for you. Second, your costs for a custom display will be minimized if you are active in trade shows all year long, because rental costs for an eshibit add up over time and use. Third, you get to decide what you want in your trade show exhibit and what you don't–and if you have been out on the trade show circuit, you know what works at trade shows and what doesn't.
One of the most important reasons to opt for a custom design is branding. If you are working with a new product, you need that product to stand out. You want your brand to have the most impact possible. It is difficult to achieve that kind of impact without a custom exhibit. If you have invested time and money on a new product line, you want to show that investment off to generate leads and sales.
When you decide to build a custom trade show exhibit, a designer can give you ideas for your brand you may not have thought of. For example, designers are well-versed in using technology, color, white space and composition to really draw a potential client to your display. You are already great at sales, but a new design can give you the edge you need to make an impact.
If you're thinking about breaking out of the rental mold and giving a design team the privilege of creating a custom design for your product or company, you are going to want to invest in a company that can give your customers something to be amazed by. You want to make your competition seethe with envy. Why not contact Echelon Design? They have been making custom trade show exhibits for years and have a team of professional designers ready to create a breathtaking design for you. Reach out today for a consultation.