Creating incredible virtual events & environments… when in-person is impractical, or impossible.
On March 16th, The New Yorker published the perfect cartoon.
The illustration: a man in pajamas, sitting at his computer, with a shocked expression suggesting an epiphany.
The caption: "My God . . . all those meetings really could have been e-mails."
Beyond resonating with anyone who has lost hours (and the will to live) during pointless and mundane meetings, the cartoon's publication marks a historic time in global life. As masses of people around the world transition from working in offices, to quarantining at home to prevent the spread of Covid-19, human life without physical contact has jumpstarted the race for viable virtual working solutions. Here are a few ways people are connecting and finding ways to live, work and play in the virtual world—and the lessons brands can take from these solutions moving forward.
Working in a virtual world
This is an unprecedented time in history in which an extraordinary number of people are working remotely. However, this doesn't mean that corporate communication needs to be limited to a mélange of conference calls or latency-riddled video chats.
Other options exist, like VirBELA. An immersive software that has drawn comparisons to Second Life, the online virtual world launched in the early aughts. In much the same way, VirBELA simulates the office experience and allows for "next-generation remote collaboration." Simply build your avatar, design your company suite, right down to the (virtual) water cooler, and join your team in the virtual world, where you can meet, host events and give presentations. Along with internal meetings, this also offers brands a unique, more engaging and interactive way to meet with and present to partners and clients. As for use cases, Stanford instructors have taught courses via the platform, while real estate start-up eXp Realty migrated their entire business to a virtual environment.
If there's one small silver lining of this lockdown, it might be the old guard recognizing new ways to work and management's acceptance of more modern solutions and remote work options in the future.
Plus, hey, you can't beat the commute.
Getting social and breaking a sweat
If there's one app that's become the pandemic prize winner, it's Zoom. This video conferencing go-to has seen its numbers explode in the last three months, from 10 million users in December, to more than 200 million in March.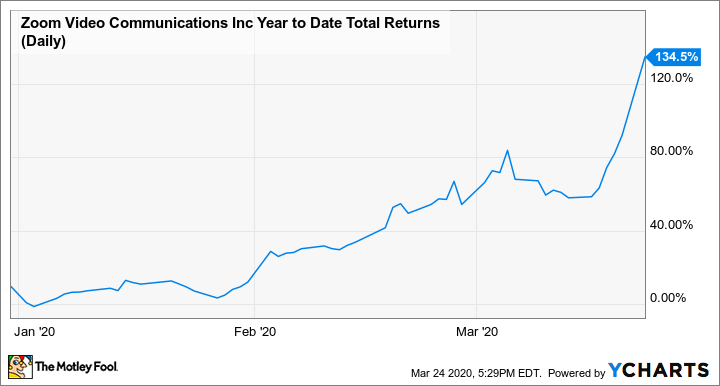 It's not just remote workers accounting for this growth—but those working out—as fitness instructors and studios take to the app to bring classes (yoga, boxing, Zumba… ZOOMba?!) straight to the living rooms of clients, who attempt to pose, punch and dance it out in a live "group" setting without leaving the house or injuring themselves on their coffee tables. (It should be noted that not all instructors are using Zoom. It appears Jane Fonda has taken to Tik Tok.)
Although Zoom is not a social media platform per se, it's become, for many, the go-to medium for social interaction. Friends and coworkers are using Zoom to convene for virtual gatherings with a stacked gallery view resembling the opening credits of the The Brady Bunch. Meanwhile, bars and organizations are using Zoom to host live events, happy hours, concerts and trivia nights, which people can sign up for and play online.
Aside from its low barrier to entry (the basic model is free and easy to use), the beauty of Zoom is the interactive element. It's not simply a broadcast; video and voice are options for all participants (though showing your face has become the default expectation for many organizations). And while it has primarily emerged as a replacement for in-person activities, companies would be wise to consider how it could be viewed as a supplement later down the line. By creating innovative interactive experiences, companies can expand their audiences from local to global. Moreover, they can extend participation to those who aren't able to leave the house but still want to experience the energy of a live workout in their home (which people love—consider the success of Peloton, for instance) or the fun of a night out while they stay in.
(Useful resource: simple steps to keep these meetings safe and secure.)
Exploring new environments
There's a good chance the Louvre wasn't on your weekend agenda, but it (sort of) could be, because the largest museum in the world offers its own virtual tours. Meanwhile, Google Arts & Culture has teamed up with more than 2500 museums and galleries around the world, allowing users to explore exhibits without the crowds and get an up-close look at some seriously impressive works of art. It's like the artist offspring of Google Streets. Yet, another Google offering, Open Heritage, allows users to explore iconic locations around the world in 3D.
As industries go, real estate is one sector where many people have already adopted similar technology with 3D tours that offer prospective home buyers a way to get a real feel for different spaces. Similarly, while it's not a brand-new phenomenon, many automotive retailers have already established VR showrooms that allow a driver to virtually get inside and "test drive" vehicles—all from the comfort of their couch.
While these virtual environments weren't designed with global quarantine in mind, people are surely becoming more open now to exploring what previously felt unfamiliar or intimidating. As the public becomes increasingly comfortable with and receptive to this technology, brands would be wise to think about how they can engage more with consumers and clients in the virtual world. Post-pandemic, this would also reduce amount of time, money and hassle in accepting that live, in-person meetings are not always affordable, practical or possible.
Attending live events
While the Met Opera, for example, has been streaming encore performances for free on its website, what's more interesting are the live performances taking place across the Internet.
With venues closed and touring impossible, musicians in particular are turning to live-streaming as an alternative, flocking to social platforms en masse as a primary way to perform and connect with fans.
The events aren't just taking places on individuals' accounts, either. During the week that would've been the SXSW music festival, Brooklyn-based outlet Left Bank Magazine put together a five-day virtual fest, featuring more than 60 hours of livestreamed performances on its YouTube channel. Many venues and festivals have followed suit, establishing their own programs and arranging to have artists "take over" and perform on virtual stages, either on their own websites or on social channels. Meanwhile, huge benefits like the star-studded "One World" concert are being broadcast and livestreamed with greater frequency, bringing networks and platforms together.
And it's not just artists and public figures that are livestreaming. One UK couple, for example, had their pastor perform their wedding ceremony via YouTube livestream (their guests attended via Zoom, naturally). Likewise, one ambitious man on lockdown in Madrid ran a marathon inside his apartment and streamed it on Facebook Live, raising thousands of dollars for charity.
As for stats, it appears the public is loving it. In March, USA Today reported that views for Instagram and Facebook Live doubled in one week, while YouTube has also seen increased demand for its livestreaming services.
In the future, people will once again be able to attend weddings, concerts and races in real life. But it's likely livestreaming will continue as more people and organizations realize the value and explore the possibilities. For brands, it's worth getting creative and investing the time and energy to make the most of these platforms. Companies will succeed by collaborating with others to produce live content that brings people together with purpose, not just profit, in mind.
Going SURREAL: a partnership & platform pivot
Like many event and experience agencies around the world, Echelon Design discovered firsthand and early on that Covid-19 was going severely impact trade shows, conferences and live events for the foreseeable future. In mid-March, Echelon conducted a survey of virtual event alternatives, concluding that the lack of widespread adoption had resulted in underdeveloped products. In other words, the market landscape was open and fertile ground for new offerings. From this audit—and a timely joint venture with two event agencies and a gaming company—Surreal Events was born.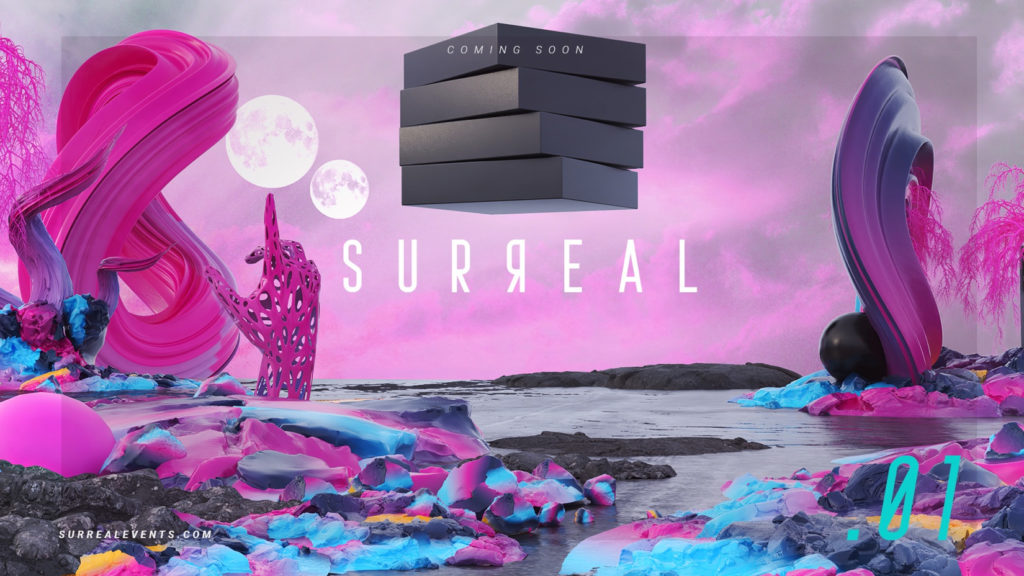 A full-service virtual event marketing and production company, Surreal Events provides a virtual landscape for new experiences—enabling audiences to connect, create, collaborate and celebrate in entirely new ways. Focusing on a different level of storytelling, experience design and customer immersion, Surreal developed SR is a browser-based, pixel-streamed, 3D virtual environment built in Unreal Engine. With merely a computer and an Internet connection, event producers and participants alike can experience fully customizable and unparalleled events anywhere in the world. As a platform agnostic (PC, Mac, Tablet, Mobile) and VR-enabled environment, SR is fully customizable, scalable and able to build anything the imagination can create.
Learn more at www.surrealevents.com.
A (non-)touching end
It goes without saying that there's no virtual equivalent to human contact. It's impossible to digitally replicate the excitement or energy we find in the presence of incredible art, beautiful environments and each other. But through creativity, tenacity and technology, we can still find ways to reach out and affect each other in new and meaningful ways. Organizations, individuals and brands alike, now—more than ever, should explore the possibilities that allow them to keep in touch with partners, clients and customers around the world.
The human spirit is not confined by form. While face-to-face communication is lasting and impactful, virtual connections can be equally as powerful and important—especially when physical distance is a necessary new normal. Now is the time to try something new and to spend this time apart learning how to move closer together.